MidLincoln Research
Core Products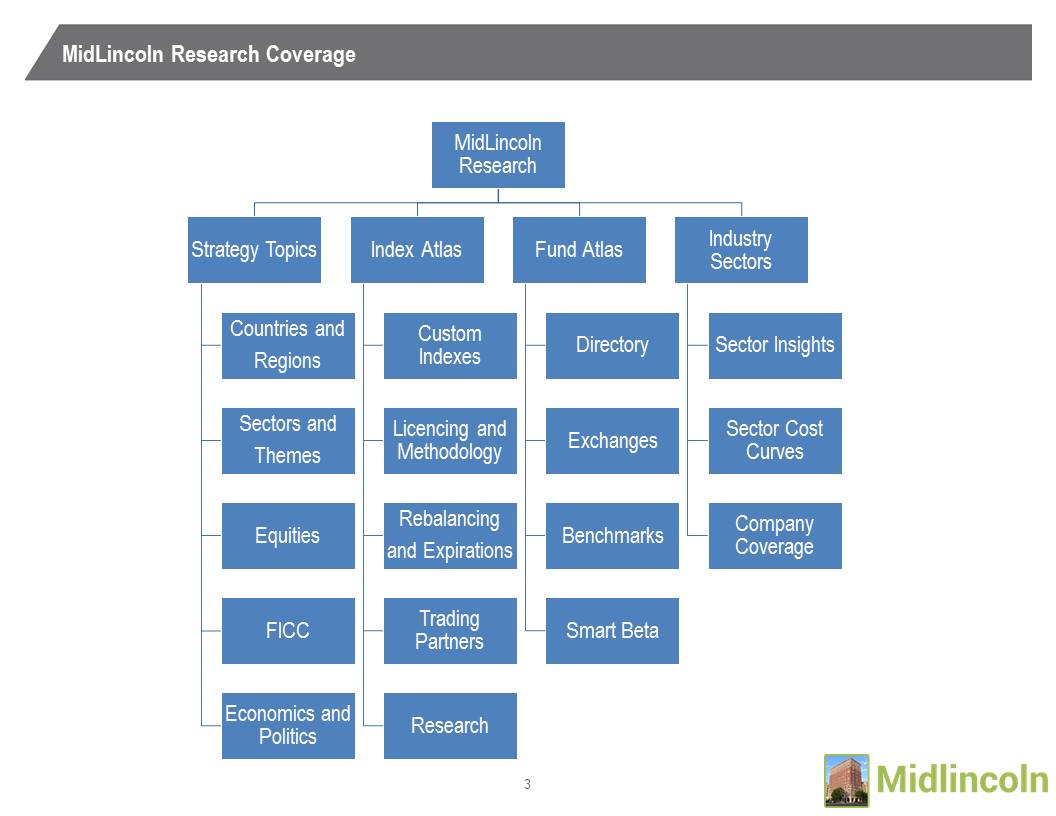 Starting with a simple single country daily ML Morning Meeting note since 2013 ML has expanded its coverage in every asset class .
What else is there
to cover?
MidLincoln Research strategy coverage includes key asset classes. Additionally ML coverage expands into ETPs, Funds, Indexes and ECM and DCM deals
Key Developments
Milestones
May 2013 launch of MidLincoln by Ovanes Oganisian emerging markets strategist. The name choice MidLincoln was inspired by the rural settings around Goryshkino village located west of Moscow which looked as empty, windy and free as Lincoln Nebraska. The idea was to launch an investment research business which is not run by smartly dressed analysts, but by village folks. The folks could be from any of the village or a small town around the world: i.e. Odintsovo near Moscow from Lincoln in Nebraska, Nyahururu Kenya , Boston in Lincolnshire or Zestafoni in Svanetia Georgia.
The only publication at that time was 'ML Morning Meeting' daily which was basically a Russia briefing...
November 2013 - MidLincoln was put on a tech footing after installation of research sql server and started heavily investing into artificial intelligence tools and bigdata (in a sense of gather lots of data). The primary aim of artificial intelligence tools was to maintain ascetic cost structure of the business.
By February 2014 two important new services were launched: ML Datamine - which served as a foundation for a launch of ML GEMs - quantitative portfolio of long/short country ideas. Quantitative products came naturally as extension of the methodology developed by heavy use of artificial intelegence and lots of data crunching, but quant was not the only focus. Rather it was a legacy of tools employed.
At that time Midlincoln expands coverage and focuses on BRICS plus Turkey and South Korea.
But by March 2014 country macro and coverage has been extended to every major country and ML starts to think global.
April 2014 MidLincoln rises funding to invest into investment strategy research business. Vladimiris Rimasevskis become a JLP in MidLincoln Reserch.
June 2014 Fund Flow product launched
October 2014 Fixed Income Weekly arrival
October 2014 First publication of GEM strategy
March 2015 MidLincoln refocuses on BRICS Plus Turkey, South Korea and adds Australia and Canada coverage
April 2015 Midlincoln launches pre-IPO research
May 2015 establishes cooperation with ITI Funds and DaVinci to launch first RTS Index tracking ETF and a number of wider GEM and Global ET products based on ML Indexes
May 2014 Midlincoln launches country/sector family of equity indexes including ML Gosplan, ML Real Estate Index, ML Financial Infrastructure Index, ML Global Energy Index, ML Dividend and other fundamentals Indexes as well as ML Standard Indexes for Countries and Sectors
November 2015 ML launches country bond Indexes
June 2016 Cooperation with Verno Capital to research quant portfolio management opportunities is established.
March 2017 Cooperation with Moscow Exchange established - Index atlas launched.
To further develop rural cooperation ideas ML launches rural crafts initiative a rural crafts kickstarter.
MidLincoln or Midlincoln Research (ML), becomes a provider of investment research and services. MidLincoln operates midlincoln.com and publishes strategy reports on capital markets. MidLincoln uses organic investment research approach searching for investment ideas that benefit local communities. MidLincoln publishes investment reports and at the same time it comments on business ideas and investment ideas that will benefit local rural communities. MidLincoln becomes a pioneer in the field of rural investment banking.
Among rural investment ideas MidLincoln favors rural sports and entertainment, rural transport and engineering solutions, rural consumer goods production and rural consumer discretionary sector ideas as well as ideas in the financial sector.
Midlincoln also provides ideas for local energy and utilities solutions, telcom and media ideas for MidLincoln, technology solutions as well as materials sector solutions.
MidLincoln does rural infrastructure research and explores ideas for local co-workings and industrial common grounds.
ML
Recent Products
Higher Access Level May Be Required to View Content
| Title | View | Date |
| --- | --- | --- |
| ML Sector Strategy | link | 2021-11-29 |
| ML Strategy: Fintech to Savior | link | 2021-11-26 |
| ML Strategy | link | 2021-11-26 |
| ML Funds Strategy | link | 2021-11-22 |
| Macro/Politics/Unions Strategy | link | 2021-11-17 |
| ML Index Strategy | link | 2021-11-17 |
| ML Fixed Income Strategy | link | 2021-11-16 |
| ML Commodities Strategy | link | 2021-11-10 |
| ML Quants Strategy | link | 2021-10-27 |
| ML Strategy: The Man of Earth | link | 2021-10-26 |
| ML Sector Strategy | link | 2021-10-26 |