United Wagon - Q4 Operating results -- leaner, healthier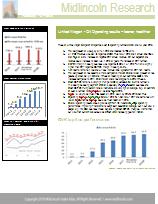 Russian United Wagon Corporation reported a set of operating numbers for Q4 and full year 2018.
Railcar production was up by 3,1% in 2018 and reached 19,700 units
H1 2108 Revenue was earlier reported at 32bn Rub for H1 2018 and if annualized totals 64bn Rub or 3.6% increase on reported 2017 annual revenue. On our expectations revenue could increase to 66bn rub in 2018 or post a 7% increase on 2017 number.
EBITDA margin in leasing business was reported at 85% in H1 2018 – which is slightly higher than 2017 reported EBTIDA margin in leasing 84.5%.